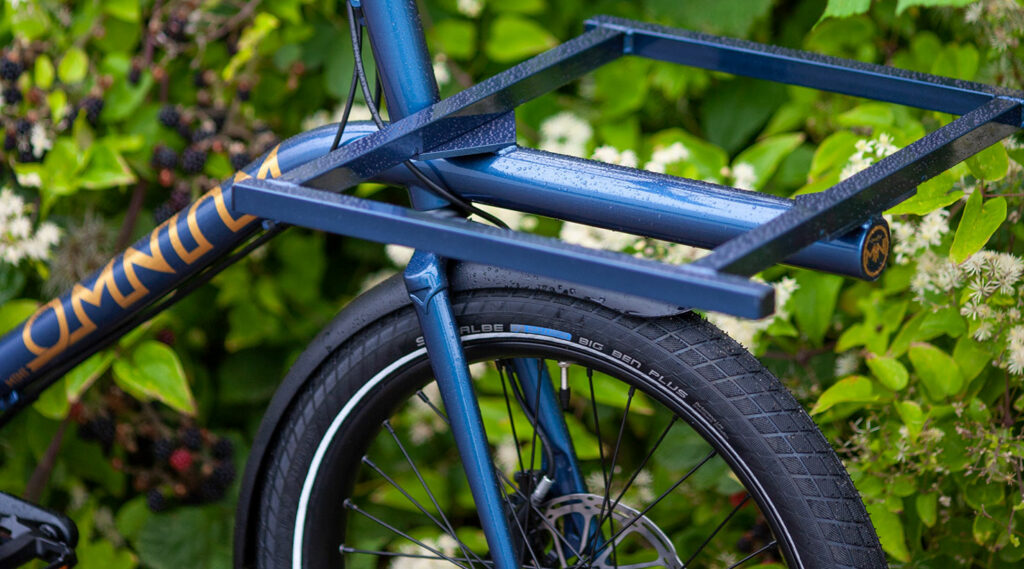 MINI
The OMNIUM Mini is a fast, manoeuvrable re-imagining of the 'short-john' bike that can carry surprisingly heavy loads. Its manageable size makes handling familiar, and multimodal transportation a breeze.
The rack is ideal for getting around with a load too big for a backpack, and perfect for putting it out front where you can keep an eye on it. Add our nylon cargo webbing to provide a super-strong surface that can hold crazy weights all day long.
Unlike some other cargo bikes on the market – ours feel pretty much exactly like a normal bike to ride. Not twitchy, not shaky, but agile and speedy. You'll adapt in minutes and wonder how you survived without OMNIUM in your life.
We offer complete bikes, fully assembled and ready to ride from our dealers – or order from our webshop and have your bike delivered WORLDWIDE with only minor assembly tasks left. We also offer frame-sets too so you can build your dream Omnium.
Are you in doubt about which of our cargo bikes fits you best? Have a look at our new page "Which Bike Fits Me?".
Mini V3
The Mini V3 everybody! The same fast and light OMNIUM as you know it, now with adjustable rocker dropouts! With the big comfy tires and trusty thru axles of the WiFi, now combined with the new super functional dropouts, we once again we feel we've created the ultimate cargo bike where versatility is at the top of the list.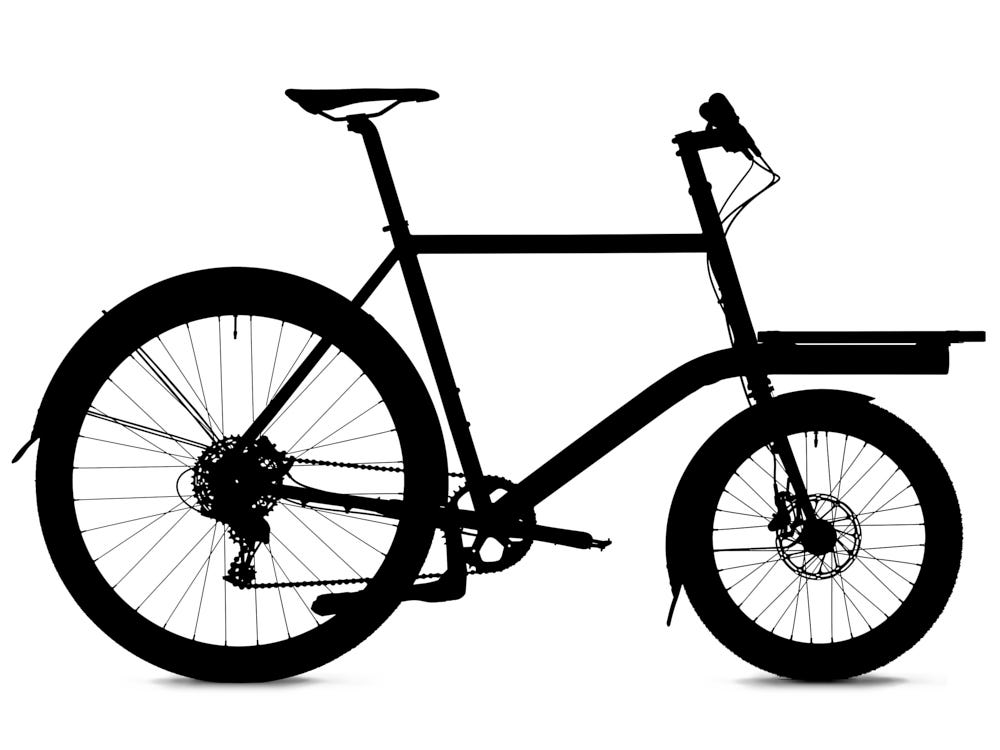 Mini V3 Belt Drive
The OMNIUM Mini Belt Drive is a variation of our Mini V3 bike with Gates Carbon Drive and internal gears. The Gates Carbon Drive is an alternative to the classic metal chain that bikes have had for more than 100 years. The drivebelt technology comes from the motorcycle world and is essentially zero-maintenance and requires no lubrication.
Mini Titanium
The OMNIUM Mini Titanium is quite possibly the ultimate do-it-all bike. Lighter than steel and with no need to worry about rust, scratches or dents; titanium is quite simply an incredible material. Commute, bikepack, run errands, and so much more on the Mini Titanium.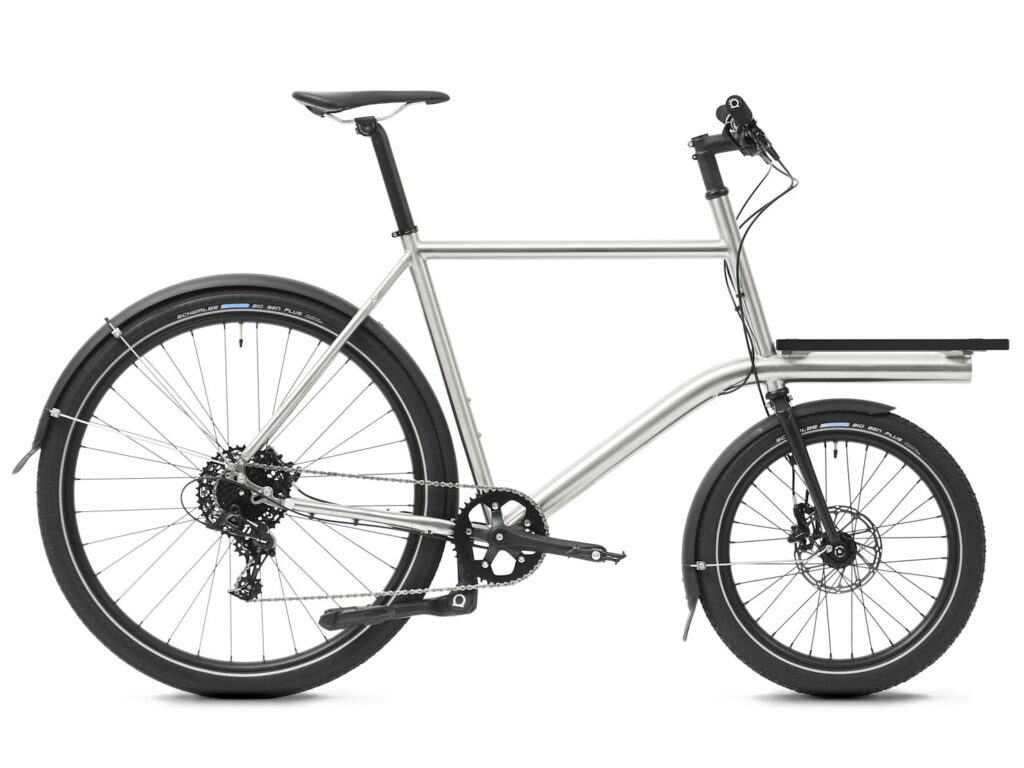 Size & Geometry Guide
Height
< 160 cm
160 – 175 cm
175 – 185 cm
185 – 195 cm
> 195 cm
Recommended Size
Extra Small
Small
Medium
Large
X-Large
Geometry


PAINT CHOICES
This list represents our past paint selection. It does not account for availability. Please check the respective product page for that. For incoming, new colors please relate to our future stock page.









FRAME SPECIFICATIONS

MINI V3
Frame material
Double-Butted Chromoly Steel Frame
5 Sizes
XS, S, M, L, XL
Gears
For 1x rear derailleur gear system
Seat post diameter
31.6 mm
Seat post clamp size
34.0 mm
Rear wheel
TA Insert: 622, 12 x 142mm spacing, disc only
QR Insert: 622, 10 x 135mm spacing, disc only
Front wheel
406, 15 x 100 mm spacing, disc only
Tyre clearance, front
55mm with mudguards
Tyre clearance, rear
55mm with mudguards
Thru Axle Rear
12×142, 172mm long, 19mm thread length, 1.75mm pitch
Thru Axle Front
15×100, 125mm long, 17mm thread length, 1.5mm pitch
Bottom bracket
BSA 68mm
Headset
1 1/8″ Ahead
Q-Factor/Stance
145mm
Rack dimensions
40cm x 42cm, made of Aluminum
Standard rack weight
1320g +/-
Rack bolt size
M8 x 15mm
Weight
Complete Medium bike weighs 18kg
Recommended maximum loading weight including rider
150 kg

ASSEMBLY GUide

Get our manual on how to assemble an
OMNIUM Mini bike by clicking on the cover below.