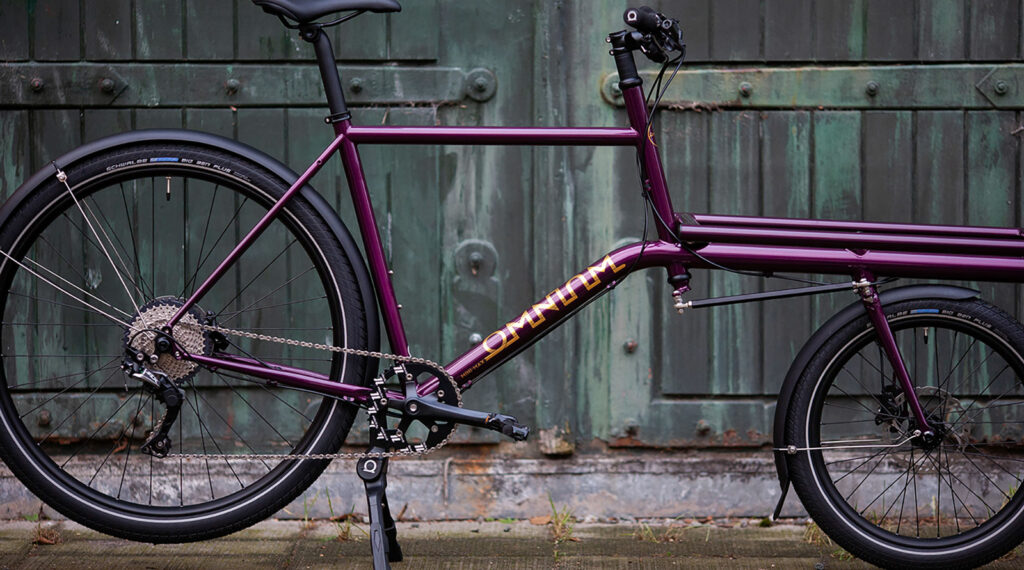 MINI-MAX
The OMNIUM Mini-Max is a capable fast, light and manoeuverable cargo bike. The front wheel's positioning in the middle of the rack allows for improved steering and handling, making it a great option for navigating through city streets. It is an ideal choice for all who want those snappy turns and compact parking.
Add our nylon cargo webbing to provide a super-strong surface that can hold crazy loads all day long. We also have a cunning extender bar that slides trombone-like into the rack to give you absurd levels of cargo power.
Unlike some other cargo bikes on the market – ours feel pretty much exactly like a normal bike to ride. Not twitchy, not shaky, but agile and speedy. You'll adapt in minutes and wonder how you survived without OMNIUM in your life.
We offer complete bikes, fully assembled and ready to ride from our dealers – or order from our webshop and have your bike delivered WORLDWIDE with only minor assembly tasks left. We also offer frame-sets too so you can build your dream Omnium.
Are you in doubt about which of our cargo bikes fits you best? Have a look at our new page "Which Bike Fits Me?".
Mini-Max V3
The OMNIUM Mini-Max WiFi stands for Wide Fit. Want more comfort, better grip, and increased stability?
The new WiFi sports 55mm tires on their respective ISO 406 and 622 rims, as well as thru axles front and rear. WiFi is the future!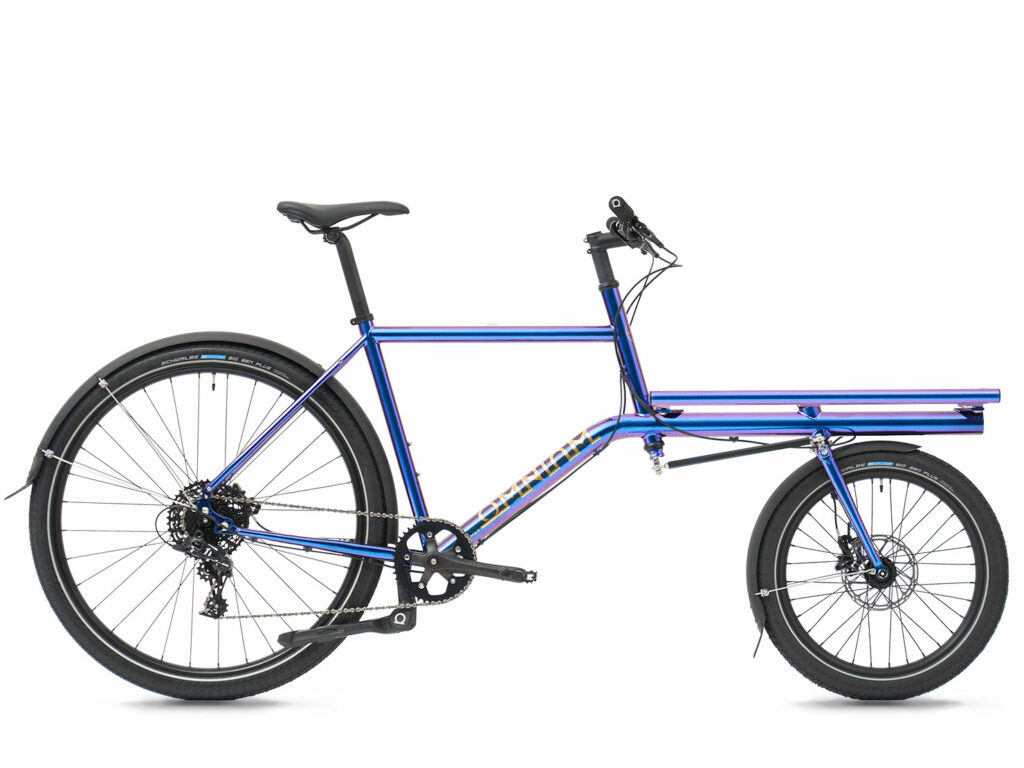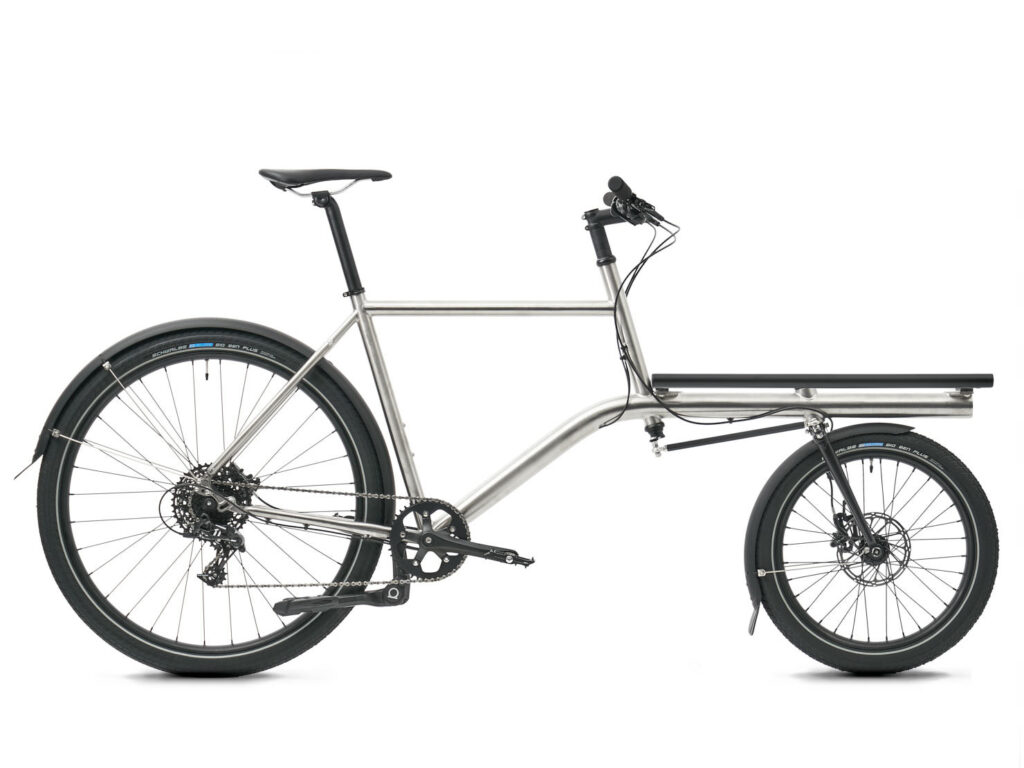 Mini-Max Titanium
The compact and quick maneuvering middle child of the lot is also available in the everlasting material of Titanium, with internal cable routing, adjustable rocker dropouts!

Size & Geometry Guide
Height
< 160 cm
160 – 175 cm
175 – 185 cm
185 – 195 cm
> 195 cm
Recommended Size
Extra Small
Small
Medium
Large
X-Large
Geometry


PAINT CHOICES
This list represents our past paint selection. It does not account for availability. Please check the respective product page for that. For incoming, new colors please relate to our future stock page.









FRAME SPECIFICATIONS

MINI-MAX V3
Frame material
Double-Butted Chromoly Steel Frame
5 Sizes
XS, S, M, L, XL
Gears
For 1x rear derailleur gear system
Seat post diameter
31.6 mm
Seat post clamp size
34.0 mm
Rear wheel
TA Insert: 622, 12 x 142mm spacing, disc only
QR Insert: 622, 10 x 135mm spacing, disc only
Front wheel
406, 15 x 100 mm spacing, disc only
Tyre clearance, front
55mm with mudguards
Tyre clearance, rear
55mm with mudguards
Thru Axle Rear
12×142, 172mm long, 19mm thread length, 1.75mm pitch
Thru Axle Front
15×100, 125mm long, 17mm thread length, 1.5mm pitch
Bottom bracket
BSA 68mm
Fork headset
1 1/8″ Threaded Integrated with locking cap
Steerer headset
1 1/8″ Ahead
Q-Factor/Stance
145mm
Rack dimensions
70cm x 50cm, made of Aluminum
Standard rack weight
1320g +/-
Rack bolt size
M10 x 15mm
Weight
Complete Medium bike weighs 19kg
Recommended maximum loading weight including rider
150 kg

ASSEMBLY GUide

Get our manual on how to assemble an Omnium Mini-Max
bike by clicking on the cover below.